Project
Patterns of Consumption: Ceramic Residue Analysis at Liangchengzhen, Shandong, China
Residue analysis of lipids from various ceramic vessel types in late prehistoric China
Project Abstract
The purpose of this research was to identify the different patterns of food consumption across space and time at Liangchengzhen, a Longshan (ca. 2600-1900 B.C.) site located in Shandong Province, China. The primary hypothesis of the research contended that evidence of increasing social inequality with respect to food consumption would be found from early to late phases at Liangchengzhen, a period of ~200 years. In addition, rice and meat from mammals, especially pigs, were hypothesized as the most likely types of prestigious foods for daily and ritual activities. Fish and marine foods in general were hypothesized to be foods that average households could obtain since Liangchengzhen was close to the sea and would not have as high a value as mammal meat.
The steps in the lipid residue analysis consisted of sampling, extraction, and analysis. Pottery was sampled from Early Phase storage/trash and hypothesized ritual pits as well as Late Phase storage/trash and hypothesized ritual pits located in Excavation Area One (see Figs.1-2). Pottery types included ding and guan, hypothesized for cooking meat, and yan, hypothesized for steaming vegetables and grains. Extraction procedures consisted of accelerated solvent extraction (ASE) to obtain the total lipid extract (TLE), separatory funnels to further separate the organic and aqueous phases of the sample, and column chromatography to obtain the alkane fraction of the total lipid.
Figure 1. Early phase storage-trash and hypothesized ritual pits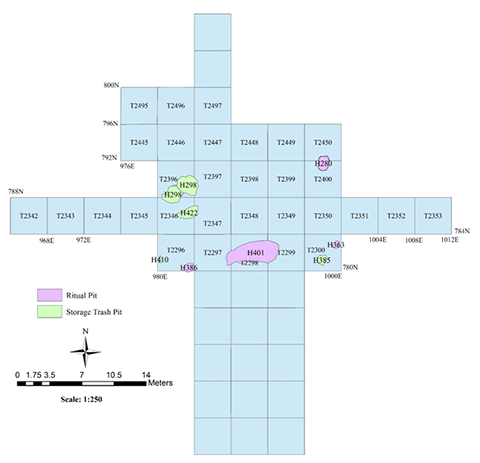 Figure 2. Late phase storage-trash and hypothesized ritual pits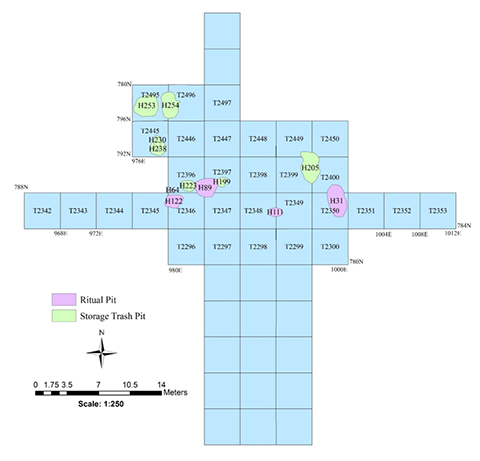 Figure 1 and Figure 2 are adapted and digitized from maps created by Geoffrey Cunnar.
The alkane lipid fraction was analyzed by gas chromatography/mass spectrometry (GC/MS) using an internal standard (IS) quantitation method. An internal standard, 5α-androstane (C19H32), was added to each pottery and reference sample. The n-alkane standards used in the study to identify and quantify unknown peaks from marine and terrestrial food sources were C15 and C17i. A mixture of the n-alkane standards and 5α-androstane were combined in specific concentrations (see Table 1).
Table 1. Concentration of n-Alkane Standard Mixture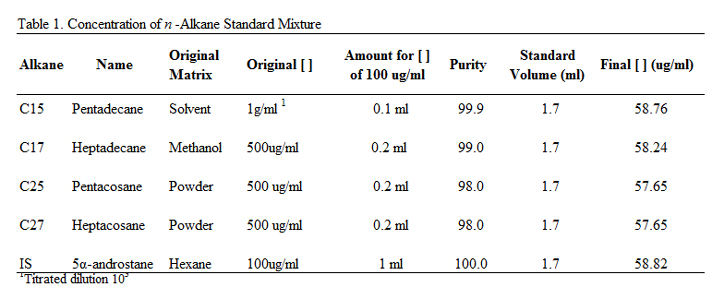 The standards were run on the GCMS and resulting peak amounts (areas) were used to calculate the response factor and relative response factor values used to calibrate unknown pottery sample peaks (Equations 1 and 2; Table 2). The response factor (Rf) is defined as the area counts of the peak per mass of sample injected. The relative response factor (RRF) is the absolute response factor of a compound divided by the response factor for a reference peak, normally the internal standard.

Table 2. Relative Response Factor for n-Alkane Standards

Although the identity and amount in the unknown sample peaks were calculated and reported using the IS method, confirmation of these data were done using NIST Library Search to identify peaks of interest and the "integrate area" tool to assess the peak amount. The formula used to calculate the corrected amount (µg) in the unknown peak is shown in Equation 3. The corrected ratios (µg) of the C15:C17 reference peaks (see Fig. 3) were used to identify pottery with terrestrial and marine/fish residues (Figs 4a-4d).

Results indicated that socially valued food consumption transitioned from marine food sources in the early phase ritual pits to rice and pig in the late phase ritual pits (Figs 4a-4d). Millet and plant residues were consistently present in storage/trash pits from both early and late phases. Findings also indicated that the use of pottery types for cooking were not limited to one source, i.e., marine, rice, millet and plant residues were found in all pottery types while pig residues were found in ding and yan pottery.
Figure 3. C15:C17 ratio for marine and terrestrial reference samples (Average values are plotted).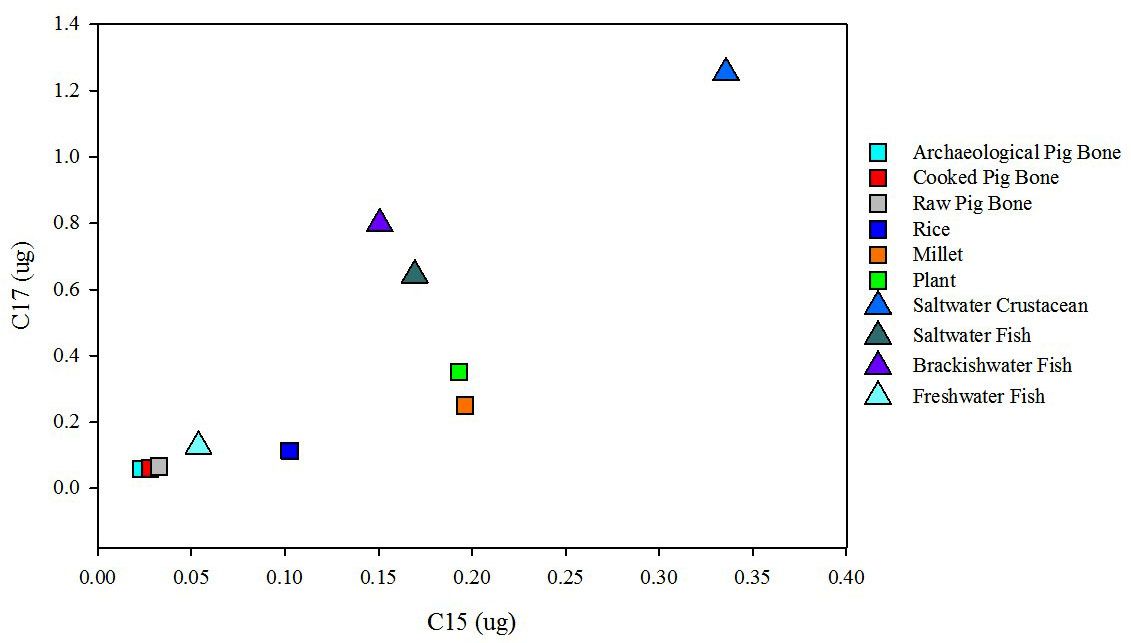 Figure 4a. C15:C17 peak ratios for early phase storage trash pottery residues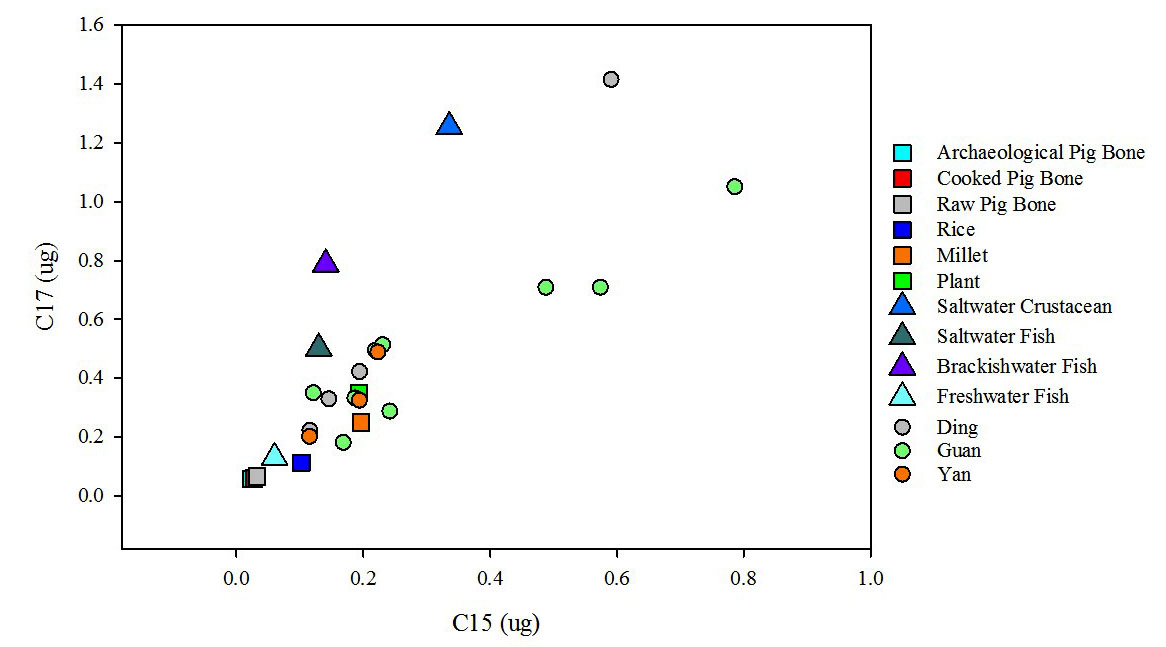 Figure 4b. C15:C17 peak ratios for early phase ritual pottery residues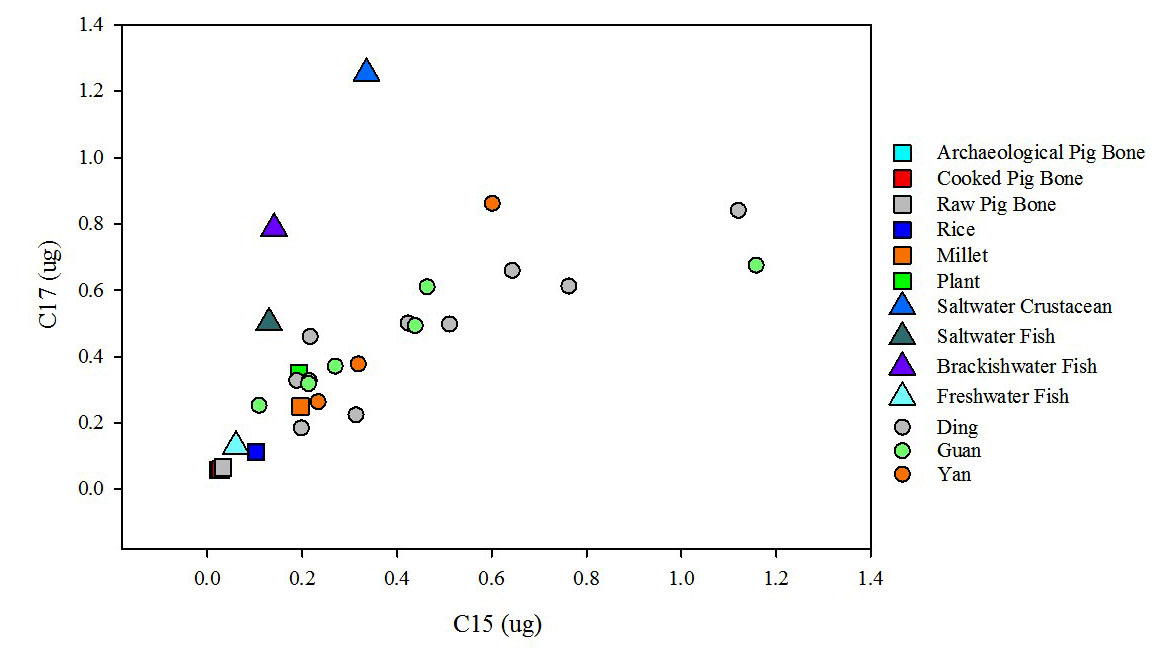 Figure 4c. C15:C17 peak ratios for late phase storage trash pottery residues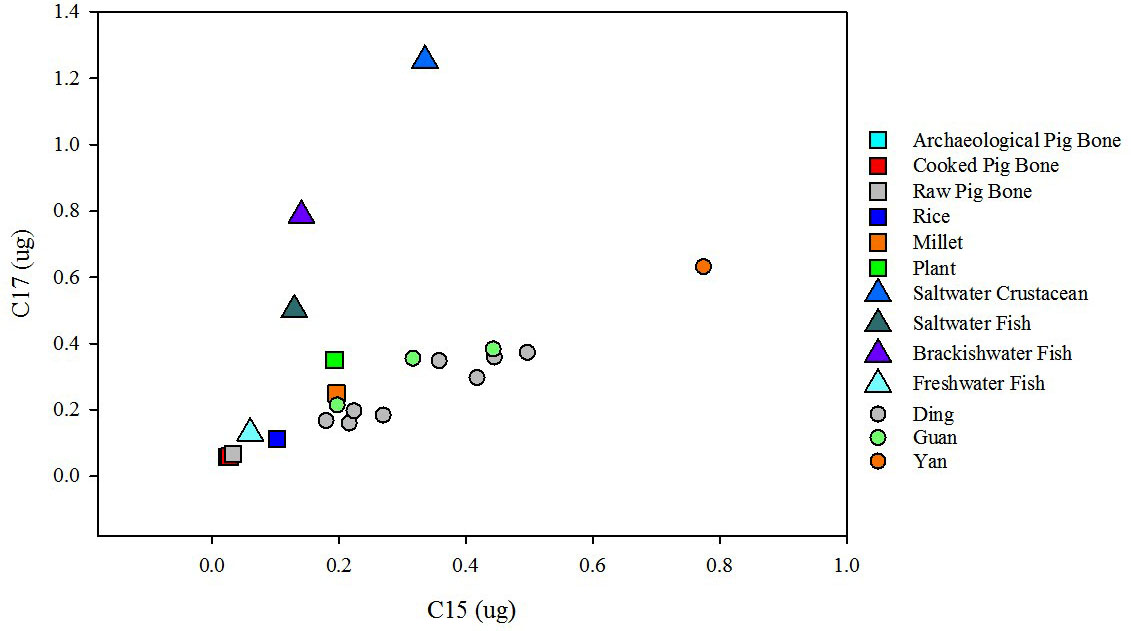 Figure 4d. C15:C17 peak ratios for late phase ritual pottery residues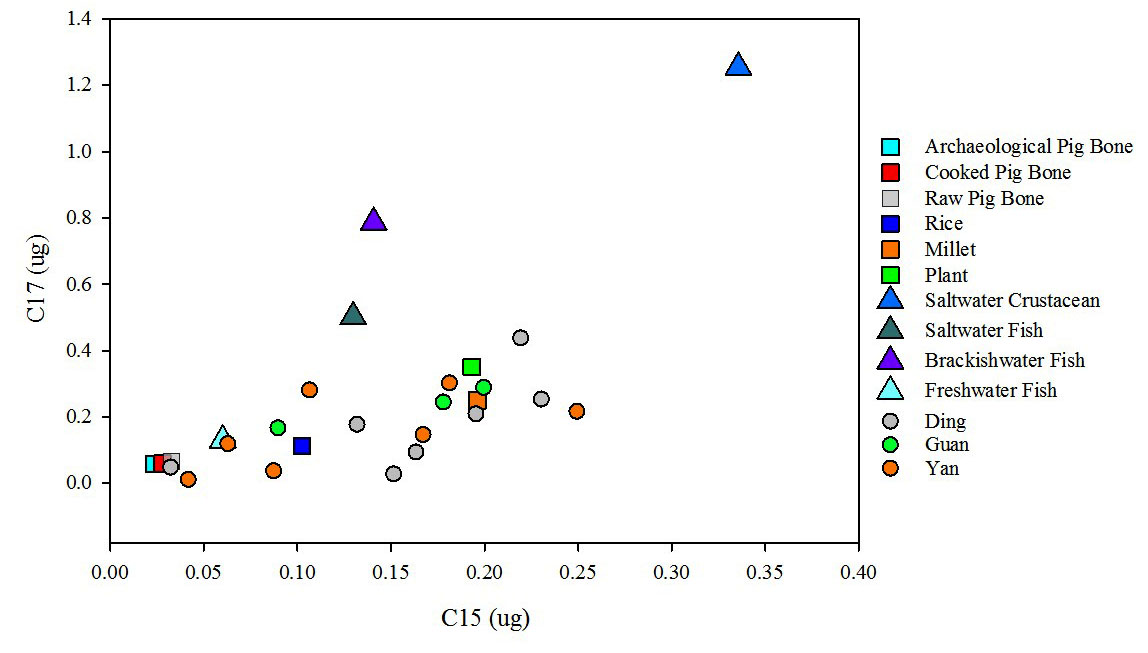 Results of the lipid residue analysis provide partial support of increasing social inequality with respect to food consumption from early to late phases at Liangchengzhen. The findings from the lipid residue analysis in this thesis more closely resemble the distribution of integrative, communal consumption pattern in the early phase and a hierarchical consumption pattern during the late phase. Fish, more abundant in the early phase, was almost non-existent by the late phase. Pig and rice, hypothesized as preferred foods, were found only during the late phase, primarily in the ritual pit, H31 (see Figs. 5-6). Millet and plant were conspicuously present during both phases, but had greater separation from ritual pits during the late phase. However, these findings are surprising since it does not match the material remains of rice and pig found in early phase pits or late phase storage/trash pits from Excavation Area One.
Figure 5. Spatial distribution of food residues in early phase pits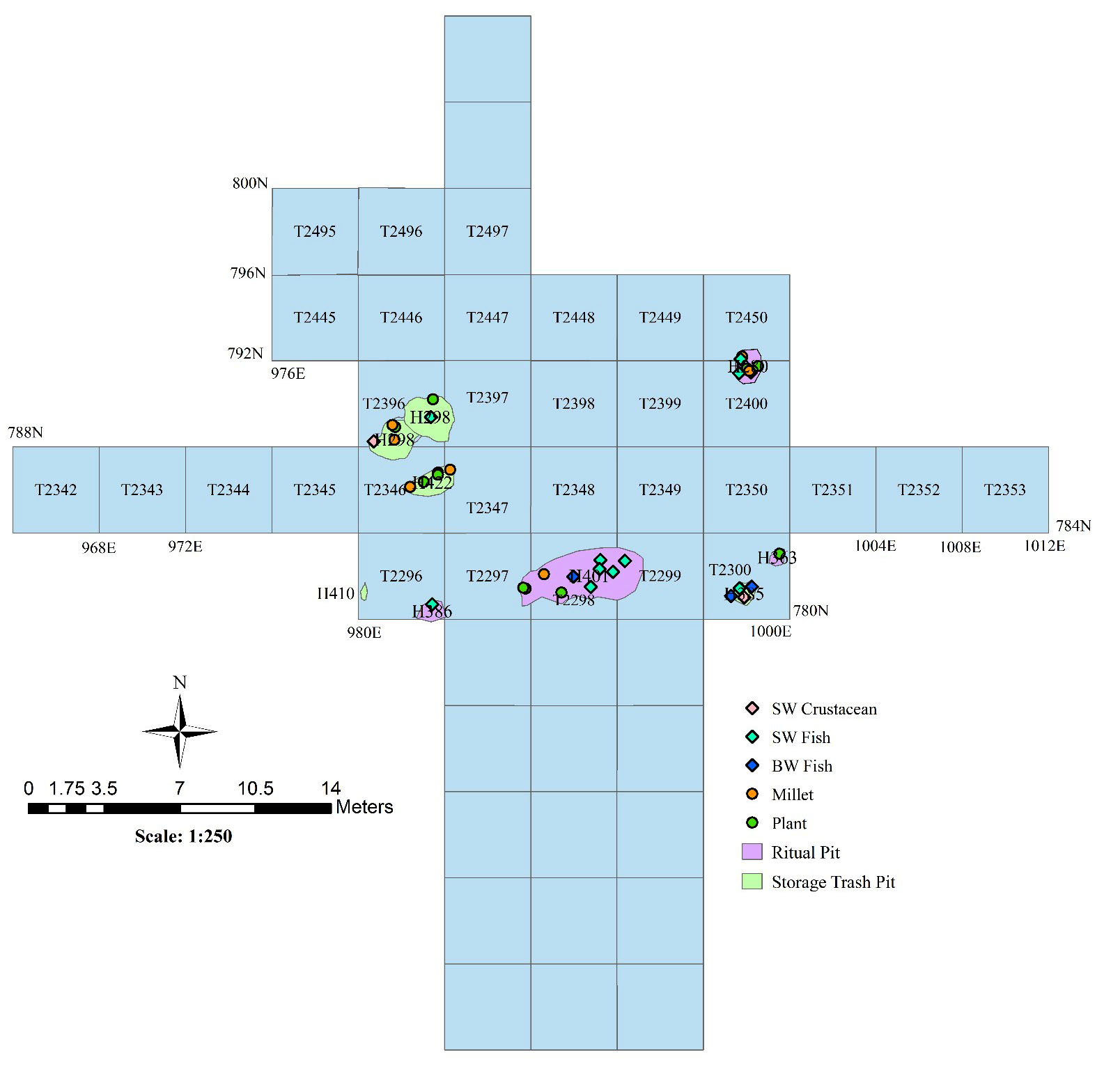 Figure 6. Spatial distribution of food residues in late phase pits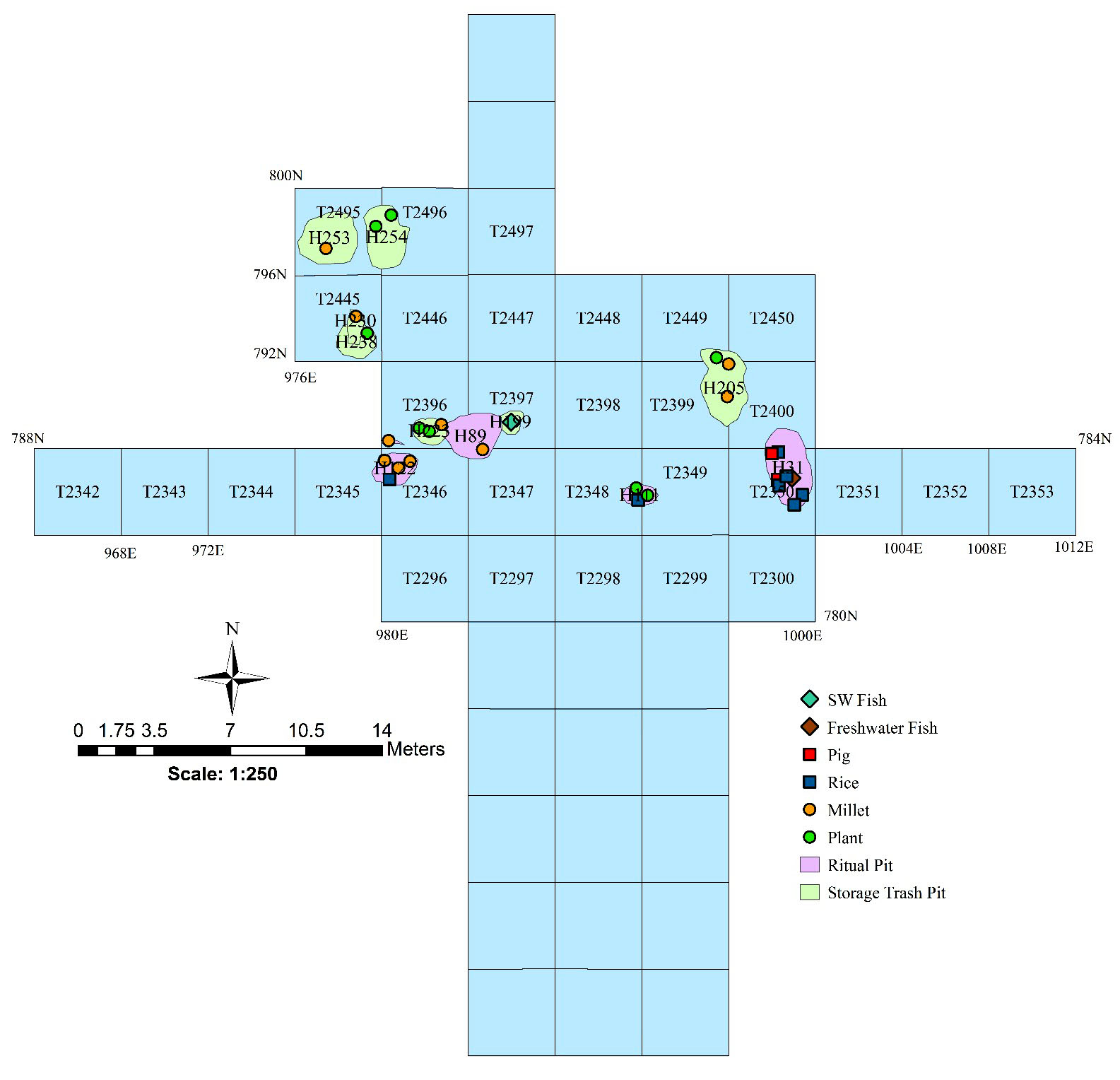 It can be concluded that patterns of consumption at Liangchengzhen changed substantially from the early phase to the late phase with regards to food residues found in hypothesized ritual pits. Considering these data with the understanding that food in China has historically been used as a tool to wield influence and power, it can be hypothesized that a social hierarchy may have developed by the late phase that was not present during the early phase. However, participation in the activities held in late phase ritual pits may have been inclusive for all Liangchangzhen residents rather than exclusive for higher status individuals.
Dissertation Citation
Lanehart, R. E., 2015. Patterns of Consumption: Ceramic Residue Analysis at Liangchengzhen, Shandong, China. PhD dissertation, University of South Florida. http://scholarcommons.usf.edu/etd/5858
Funding
This research was funded by a National Science Foundation Doctoral Dissertation Improvement Grant, Award ID 1241943
iOriginally, the designated terrestrial biomarker peaks were C25 and C27. However, these peaks did not appear or appeared weakly (poor signal-to-noise ratio) in the pottery and terrestrial reference samples run on the GCMS. Therefore, amounts for the C25 and C27 peaks could not be calculated and the C15 and C17 n-alkane peak values were calculated for all samples.
Annotations (2)
Property or Relation
Value(s)
foaf:depiction
Status
Editorial Note

Open Context editors work with data contributors to annotate datasets to shared vocabularies, ontologies, and other standards using 'Linked Open Data' (LOD) methods.

The annotations presented above approximate some of the meaning in this contributed data record to concepts defined in shared standards. These annotations are provided to help make datasets easier to understand and use with other datasets.
Suggested Citation
Rheta Lanehart. "
Patterns of Consumption: Ceramic Residue Analysis at Liangchengzhen, Shandong, China
". (2017) Rheta Lanehart (Ed.) . Released: 2017-02-13. Open Context. <
http://opencontext.org/projects/02062F0F-7C5D-4754-2B42-4EAC8A37F5DC
> DOI:
http://dx.doi.org/10.6078/M7ZP441K
Editorial Status
Page created by Open Context editors. Not reviewed.
Part of Project
Open Context [General]
Copyright License
To the extent to which copyright applies, this content carries the above license. Follow the link to understand specific permissions and requirements.
Required Attribution: Citation and reference of URIs (hyperlinks)